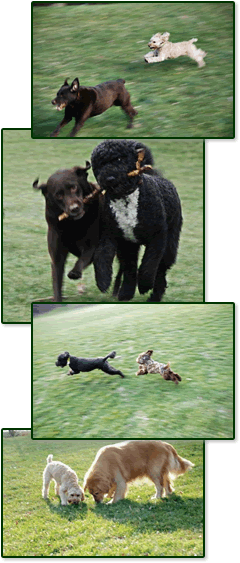 Our most popular service. Your dog is picked-up at your home and brought to a large, fenced-in yard and allowed to play with other dogs his or her own size and temperament.
Daily Playgroup
Dogs are encouraged to run, romp, chase balls, play fetch and interact with each other. A staff member trained to facilitate safe and effective socialization constantly supervises each playgroup to ensure that play doesn't get too rough and to reinforce basic obedience commands. You will be amazed at how calm and relaxed your dog will be after each session. Although ideal for puppies and young dogs, a daily playgroup is also well suited for an adult dog that needs more exercise and mental stimulation than a walk can provide. Playgroup is an excellent way for your dog to receive healthy outdoor exercise while also building and strengthening the important social skills that will guide them for a lifetime.
$45 (approximately 4 hours)
"We have seen a tremendous positive change in our puppy since she joined the daily puppy playgroup. She comes home and goes right to sleep, and she is mouthing less."
"I wish I could find a man as committed to me as Corbin is to my puppy."
"My dog has more fun than I do."
The Newton Dog Walk
Your dog is taken for refreshing walk in its own neighborhood or brought to a local dog-friendly park. Walks are done individually or in a small group of up to 3 dogs. This allows us to lavish personal attention on your dog and reinforce basic obedience commands. The rate is for a single dog and includes checking water, feeding (if necessary), pick-up & drop-off and leaving a personal note after each visit.
$27 (30 minutes) / $35 (60 minutes)
---
The Adventure Walk
Your dog is brought to an area state park or conservation land for a guided off-leash run with other athletic dogs. Your dog will explore open fields, streams and wooded areas while actively socializing and receiving excellent exercise. Before attending, dogs must participate in at least one playgroup session to assess social skills and demonstrate the ability to respond to commands. A daily adventure walk will give your dog exactly what it needs: wholesome exercise, active exploration, and membership in a very special pack.
$45 (approximately 2 hours)